JOURNEY WELL TREE
 OUR DEEPEST CONDOLENCES AND SINCEREST PRAYERS 
TO THE FAMILY OF ROBERT "TREE" CODY
Traditional Name: Oou Kas Mah Quet, or "Thunder Bear"
Visit our News Page for More Info
LIFETIME HONOREE & MULTIPLE AWARD WINNER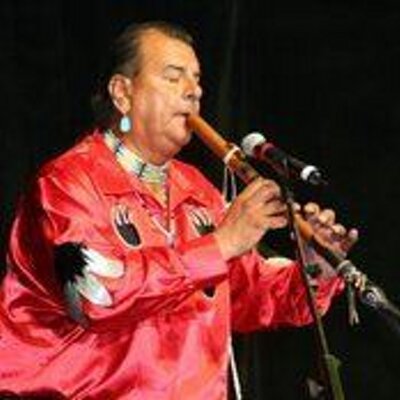 Please consider donating to Robert Tree Cody's funeral services. All donations will go toward the transportation of Tree's body from New Mexico to Arizona and his funeral service expenses. His wife Rachel is humbly asking for any donation amount, even just $5.00 if you can to help honor Tree's wishes to be taken home. 
The 20th Annual Native American Music Awards Show, was hosted by actor Rodney A. Grant, and aired on The Cowboy Channel and their network which is one of America's fastest
growing cable networks providing family-friendly entertainment dedicated to serving the needs and interest of rural America.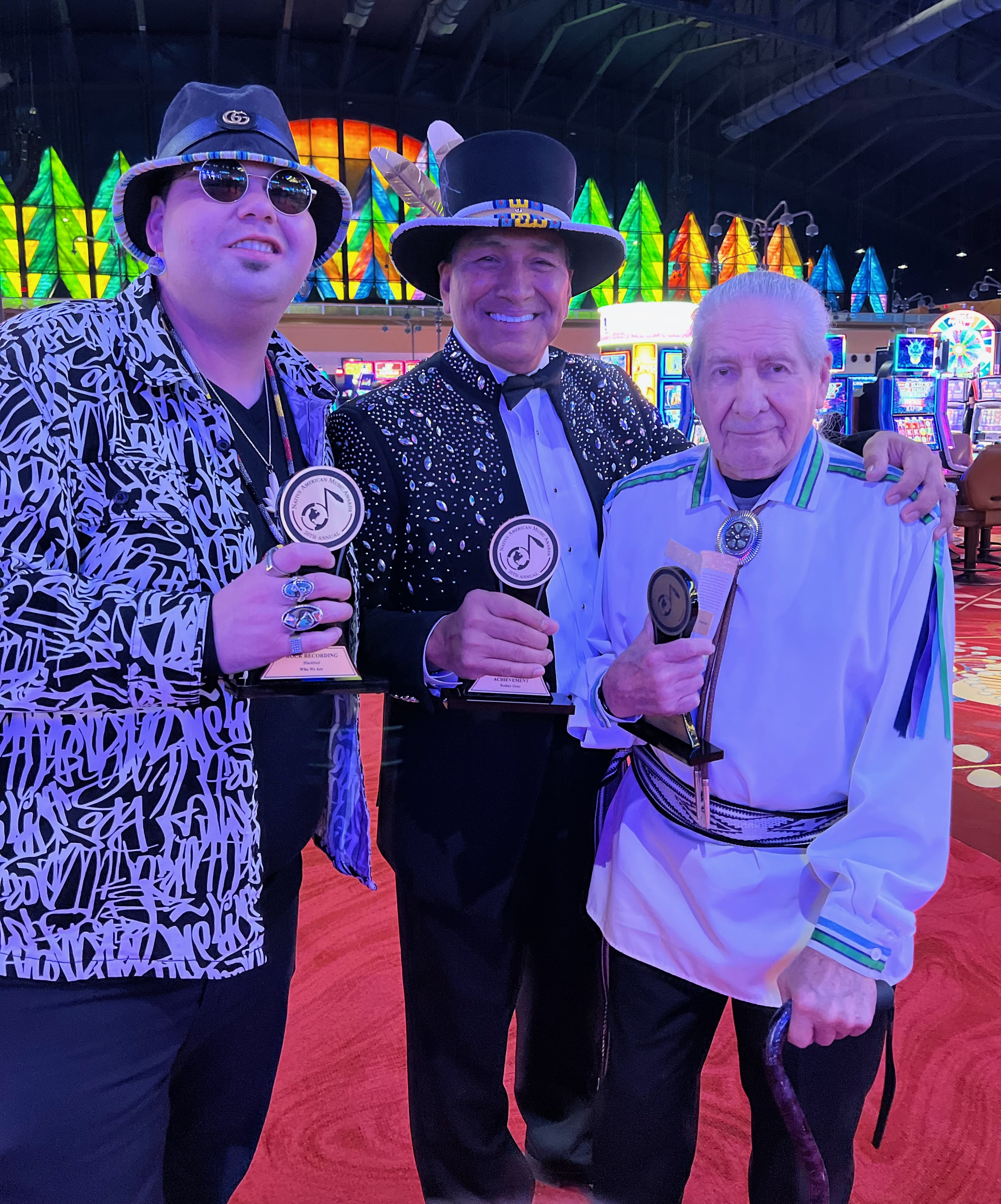 The 20th Annual Native American Music Awards show was held at the Seneca Niagara Resort & Casino, and celebrated and honored some of the most powerful voices from across the country following a historic snowstorm.  Hosted by actor Rodney A. Grant, a member of the Omaha tribe of Nebraska, who was presented with a Lifetime Achievement Award for his outstanding work as an actor in the motion picture and television industries.   Rodney is best known for his memorable role as "Wind In His Hair" in the 1990 film, "Dances With Wolves" with Kevin Costner.
The event also honored Paul LaRoche of Brule and Robert Tree Cody as Lifetime Achievement recipients and Wisdom Keeper, Oren Lyons, a member of the Onondaga and Seneca nations, as a Living Legend who is an author and environmental activist for Indigenous peoples worldwide and is also in the All-American Lacrosse Hall of Fame.
Grammy Award winner & multiple Native American Music Award winner of Comanche and Cherokee descent, Micki Free, was inducted into the N.A.M.A. Hall of Fame.
Originally discovered and managed by Gene Simmons of KISS, Micki was the guitarist in the R&B sensation, Shalamar who boasted mega platinum hit songs like "Dancing In The Sheets" from the movie soundtrack "Footloose" and "Don't Get Stopped In Beverly Hills"  from the "Beverly Hills Cop" soundtrack. 
This year's Awards program also featured performances by multiple
nominees: Cody Blackbird who won Best Rock
Recording, Earl Slick (David Bowie) and the Fabulous Ripcords who won Best Blues Recording and Group of the Year, The Halluci Nation who won Best Animation in A Video, and artist and actor, Sten Joddi, known for his recent role as 'Punkin Lusty' aka Mr. Greasy Frybread, in the Award Winning FX Networks series, 'Reservation Dogs' who won Best Rap Hip Hop Recording and Best Male Artist.
You can watch the broadcast on The Cowboy Channel (cable and satellite) by streaming it on their paid subscription service TCC+ (www.cowboychannelplus.com). 
www.NAMALIVE.com   NativeMusicAwards@gmail.com

Congratulations to all the winners! 
Thank you to all those who weathered the storm with us during the
20th Native American Music Awards 
A broadcast of the Awards show Program will be announced soon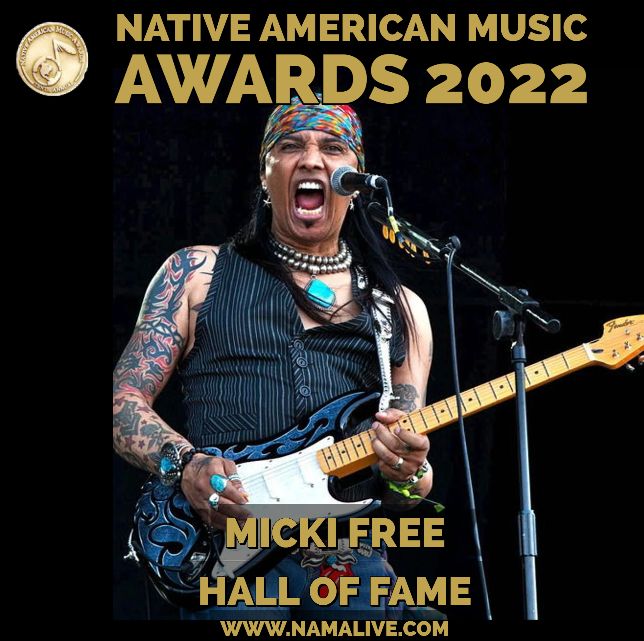 Congratulations Micki Free on Your Induction into the HALL OF FAME
HOST & LIFETIME ACHIEVEMENT HONOREE
Rodney A. Grant
LIVING LEGEND
Oren Lyons
PERFORMERS
Cody Blackbird
Earl Slick
Ed Koban
Kelly Montijo Fink
Micki Free
Niagara River Dancers
The Fabulous Ripcords
Sten Joddi
HONORABLE MENTIONS
Blanca Iris Acuna
Jack Holland
Just Jamez
Kelly Montijo Fink
Nick Lone
Richelle Darby Garcia
Scott Kalama of Blue Flames
Sandra Sutter
Shibastick
Two Shields
Veronica Johnny
Please Standby For A Broadcast Announcement of the Awards... 
Please sign up as a free E team member to be notified of the Time & Date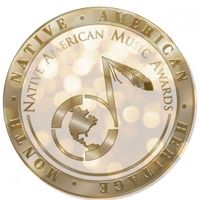 The Native American Music Awards would like to acknowledge the land on which the Awards takes place, which is the original territory of the Seneca Nation, a member of the Haudenosaunee/Six Nations Confederacy. Today, this region is still the home to the Haudenosaunee people, and we are grateful for the opportunity to share music in this territory. With this Land Acknowledgement, we honor, with gratitude, and we commit ourselves to honoring the earth and all of her gifts.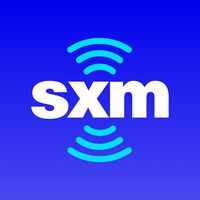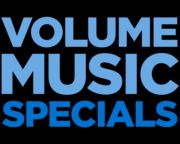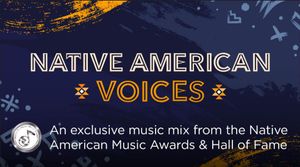 https://siriusxm.us/NativeAmericanVoices
The Native American Music Awards has also teamed up with SiriusXM for a special curated music mix celebrating the musical contributions of Native American artists. "Native American Voices," an exclusive mix highlighting artists from the Native American Music Awards & Hall of Fame, is hosted by the organization's president, Ellen Bello. The content will be available on SiriusXM beginning October 31, on the SXM App for the month of November.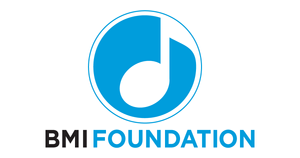 The Awards is also proud to announce a new partnership with the BMI Foundation to create a career grant for a Native American songwriter or composer. To be known as the BMI Foundation Rising Star Award, this new program will honor a music creator in the Rising Star category for emerging and promising artists. The recipient of this award will receive a $2,500 career grant.
LISTEN TO ALL NOMINATED MUSIC AT
 https://www.nativeamericanmusicawards.com/listen-up-listen-by-category
google-site-verification: googled00cd634b8c67155.html