WHERE IS THE DIVERSITY IN THE GRAMMYS?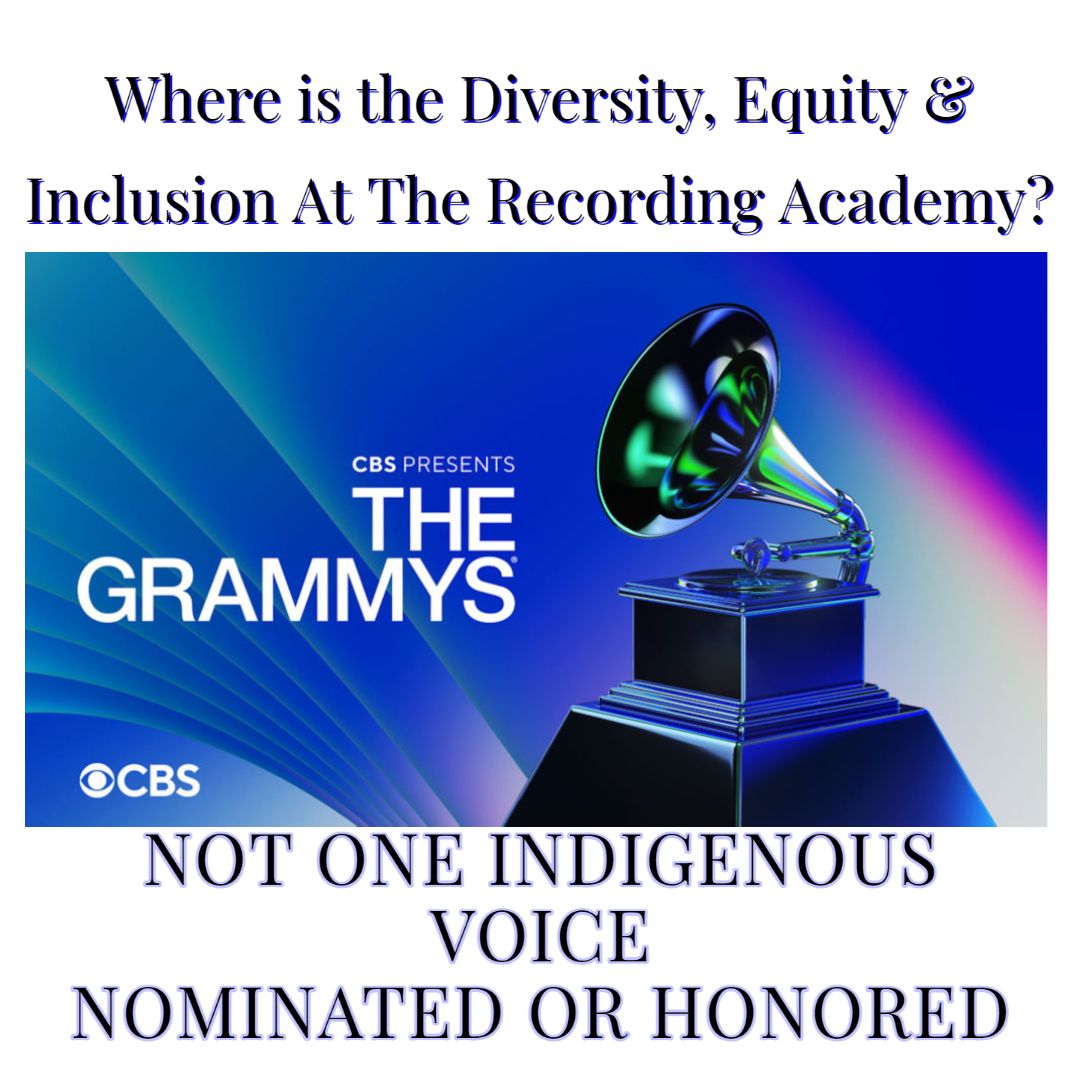 NOT ONE Indigenous voice was nominated or honored this year in the #Grammys2022. Numerous Native American music recordings were entered for the 2022 GRAMMYS, but they all vanished by the time the nominations were announced. Adding insult to injury, Music Matriarch Joanne Shenandoah who recently passed away and worked with many Grammy award winning artists as well as was awarded herself, was absent from their broadcast program. The Recording Academy was well aware Joanne passed and could have memorialized her. Instead, they were considering adding Mardi Gras Indians for their opening performance. Neither occurred. At least the Oscars acknowledged the recent passing of Saginaw Grant in their broadcast program last week.  
The Indigenous Voice and Perspective is needed now more than ever in our world. And Native American music was here first and existed long before the Recording Academy. They just don't want to acknowledge it. 
What About The GRAMMY Taskforce? Shortly after the Task Force began meeting, there was an apparent awareness that in order to address disparities in the voting membership in time to impact the upcoming awards cycle. Apparently, the Task Force worked with the Academy to conduct an extraordinary outreach initiative aimed at recruiting and bringing in as many underrepresented, qualified creators as possible in order to help diversify the voting body in advance of the 61st GRAMMY Awards telecast. The initiative resulted in the Academy inviting over 900 underrepresented artists, nearly 200 of whom joined the Academy.  Were you invited?   
In 2012, since the Regional Roots category was created, not one Native American Music Album has won. Only Kalani Pe'a, who now has three GRAMMYS, has been recognized for his Hawaiian music entered in the Regional Roots music category. This year, not one Native American artist was nominated. So much for their Diversity Inclusion and the GRAMMY Task Force.  
Following a three-year lobbying effort by Ellen Bello, founder of the Native American Music Awards and the Native American Music Association, the first Native American Music category was established in the Grammys in 2000. From 2001 to 2011, we had multiple nominees and a guaranteed winner each year. That was the last our voices were heard and honored by the Recording Academy. The first Grammy award for Best Native American Music Album was presented to Tom Bee and Douglas Spotted Eagle in 2001 as the producers of the compilation album Gathering of Nations Pow Wow. Previously, Native American recordings had been placed in the folk, world or new-age music categories to compete for nomination.  
The Best Native American Music Album  award remained unchanged between 2001 and 2011. According to the category description guide for the 52nd Grammy Awards, the award was presented to "vocal or instrumental Native American music albums containing at least 51% playing time of newly recorded music", with the intent to honor recordings of a more "traditional nature.". As performing artists, Bill Miller and Mary Youngblood share the record for the most wins in this category, with two each. Thomas Wasinger holds the record for the most wins as a producer, with three. The group Black Lodge Singers holds the record for the most nominations without a win, with seven nominations. 
Circa back to 2011, the category for Best Native American Music Album was eliminated along with thirty other categories due to a major overhaul by the Recording Academy. Four additional categories in the American Roots Music field were eliminated (Best Contemporary Folk Album, Best Hawaiian Music Album, Best Traditional Folk Album, Best Zydeco or Cajun Music Album). Native American works would now only become eligible for the Best Regional Roots Music Album category. 
Currently, the GRAMMY award for Best Regional Roots Music is an award presented to recording artists for releasing albums in the regionally based traditional American music, including Hawaiian, Native American, polka, zydeco and Cajun music genres.  This year, the award added  Go Go Music to the category further diluting this catch all appeasement effort. To date, not one Native American music album has won in this category  since the Regional Roots Music Album category was created. Disappointingly, this year, not one Native American music album was nominated at all. Furthermore, the American Roots categories have NEVER nominated a Native American Music recording. 
BEST NATIVE AMERICAN MUSIC ALBUM WINNERS 2000 - 2011:  
Various Artists, Producer Tom Bee and Douglas Blue Feather, Gathering of Nations Pow Wow  
Johnny Mike and Verdell Primeaux, Bless the People: Harmonized Peyote Songs 
Mary Youngblood, Beneath The Raven Moon 
Black Eagle, Flying Free 
Bill Miller, Cedar Dream Songs 
Various Artists, feat Joanne Shenandoah, Bill Miller, Walela, Robert Mirabal, Sacred Ground, Jim Wilson Producer 
Mary Youngblood, Dance With The Wind 
Johnny Whitehorse, Totemic Flute Chants 
Various Artists, Come to Me Great Mystery: Native American Healing Songs, Tom Wassinger Producer 
Bill Miller, Spirit Wind North 
Various Artists, 2010 Gathering of Nations Pow Wow, Derek, Lita, Melanie Mathews Producer 
BEST REGIONAL ROOTS ALBUM NOMINEES 2012 to present: 
2012 n/a 
2013 Radmilla Cody — Shi Kéyah — Songs for the People 
2014 Joe Tohonnie Jr. — Apache Blessing & Crown Dance Songs 
2015 Joe Tohonnie Jr. — Ceremony 
2016 Windwalker & The MCW — Generations 
2017 Northern Cree — It's a Cree Thing 
2018 - n/a 
2019 Young Spirit — Mewasinsational - Cree Round Dance Songs 
2020 - n/a 
2021 Black Lodge Singers - My Relatives "Nikso Kowaiks" 
2022 - n/a